Partner webinar: LoRaWAN for industry and waste management companies
TUESDAY, 12.09.2023 | 14:00-15:00 HRS MEZ | FREE OF CHARGE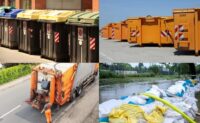 Partner webinar
with Pepperl+Fuchs
Topic: LoRaWAN for industry and waste management companies
Tuesday, 12.09.2023 | 14:00-15:00 CET | free of charge
With this webinar, we are specifically addressing industry and waste disposal companies. The central topic in terms of disposal is to record filling levels. This is the only way to take timely preventive measures. Regardless of whether it is a matter of fill and level levels in general, littering or overfilling.
The goal is always to optimize the efficiency of plants and processes, to be able to act preventively, and to reduce costs. Together with our partner Pepperl+Fuchs, we will inform you how you too can get started with LoRaWAN.
Digitization and networking play an important role here. Networking things "smartly" with each other is a central concern. It often fails due to a lack of infrastructure, but a LoRaWAN network can be implemented in no time at all.
Target group
Waste management companies that want to increase their process efficiency
General managers, executives and employees as well as representatives of municipalities and cities
Contents of the webinar
Our partner webinar will provide a brief overview of LoRa/LoRaWAN radio technology and highlight its possibilities. Because once installed, it can be the basis for the most diverse applications. Waste disposal controlling for industry, municipalities and administrations are just a few of them.
The focus of the applications of this webinar are: Fill & level sensor technology for landfills, containers, silos, lakes, rivers, etc. On the basis of already implemented use cases discussed.
We will show you how easy controlling can be implemented. We will introduce you to the appropriate sensors and explain the principle behind them - how the respective sensor works and can be configured. We demonstrate all of this in a live demo with an associated dashboard.
Agenda
Welcome and short introduction Pepperl + Fuchs/m2m Germany
Introduction LoRa/LoRaWAN

LoRaWAN in general
Network building

Use cases from different sectors - industry, urban/municipal waste management, etc.
Presentation and demonstration of level sensor technology

Question & Answer session
Speakers:
Marius Nickolai, CEO (m2m Germany)
Daniel Möst, New Business Development Manager ( Pepperl+Fuchs)
Discover the possibilities of LoRaWAN for your application and learn in 60 minutes how uncomplicated the entry into digitalization can be.
Participation
Participation in the online webinar is free of charge.