Partner webinar: LoRaWAN for utilities - focus: energy controlling
WEDNESDAY, 25.10.2023 | 14:00-15:00 HRS MEZ | FREE OF CHARGE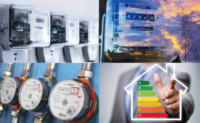 Partner webinar
with Elvaco AB
Topic: LoRaWAN for utilities - focus: energy controlling
Wednesday, 25.10.2023 | 14:00-15:00 CET | free of charge
With this webinar, we are specifically addressing utilities for gas, water, electricity and heat. Exploiting potential and increasing energy efficiency is crucial for regional and national providers.
Our partner webinar will demonstrate how to set up a LoRaWAN infrastructure and digitally capture and read meter readings.
Target group
General managers, executives and employees of utility companies
Contents of the webinar
The basis for efficient energy monitoring and controlling is to record and analyze energy consumption, process data, environmental parameters and key figures and thus identify potential savings and take appropriate action.
Digitization and networking play an important role in this. Networking things "smartly" with each other is a central concern. However, this often fails due to a lack of infrastructure, although a LoRaWAN network can be implemented in no time at all.
Once such a LoRaWAN network has been set up, it can be used for a wide range of applications - energy controlling in industry, municipalities and administrations is just one of them.
Together with Elvaco, we will provide a brief overview of the LoRa/LoRaWAN radio technology and highlight its possibilities. The focus will be on customer projects from the utility industry that have already been implemented.
We will show you how easy energy monitoring and controlling can be implemented. For this purpose, we will present various solutions: from the sensor to the meter to the retrofit meter module and explain the principle behind it.
Agenda
Welcome and short introduction elvaco/m2m Germany
Introduction to the topic LoRa/LoRaWAN

LoRaWAN in general
Network building

Use cases from different industries
Presentation and demonstration of metering solutions

Question & Answer session
Speakers:
Marius Nickolai, CEO (m2m Germany)
Florian Schmidt, (Elvaco AB)
Discover the possibilities of LoRaWAN for your application and learn in 60 minutes how easy it can be for utilities to get started.
Participation
Participation in the online webinar is free of charge.