When the application drives the IoT technology.
IoT technologies are the focus of this webinar, because the IoT - the Internet-of-Things is the pace-setter for everything that is under the sign of digitalization.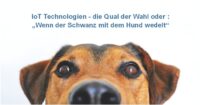 IoT technologies - spoiled for choice or: "wag the dog"
The topic of digitization is more topical than ever. Industry, energy suppliers and business are facing major challenges and are looking for suitable answers and solutions. The field for IoT applications is infinitely broad - but which technology is best suited to successfully implement a digitization project?
Making the right choice of wireless technologies is a challenge today.
Which technology is best for IoT applications?
In our webinar, we will show which different wireless technologies are available for which applications. Marius Nickolai will give a short insight into the different standards: from Bluetooth and Bluetooth LE, from Wireless LAN to WiFi 6 via 5G, LTE, LTE-M, as well as NB-IoT and LoRaWAN.
The aim will be to take a closer look at the individual possibilities as well as the respective limitations of the different technologies.
With best practice examples from very different sectors such as industry, utilities or innovative start-ups, we want to simplify the "agony of choice".
Discover the possibilities of the different technologies for your application and learn in 60 minutes how easy it can be to get started with digitization.
Marius Nickolai will deliver the webinar and be available for Q&A.
Participation in the online webinar is free of charge.
The next webinar date will be announced shortly
Do you have any questions?
Karin Reinke-Denker (06081) 587 3860 will be happy to help you, karin.reinke@m2mgermany.de, will be happy to help.
We look forward to your virtual visit!