Podcast: LoRaWAN simply explained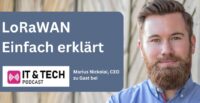 When it comes to digitalization & co, there are always gaps in knowledge - especially when it comes to LoRa/ LoRaWAN technology.
If you want to know the basics about LoRaWAN and get an idea about the various possibilities of LoRaWAN, the podcast of IT & Tech is the right choice. In the podcast, LoRaWAN is explained very simply by Marius Nickolai.
He briefly introduces the topic, conveys basic knowledge about LoRaWAN and uses various application examples to show what this low power wide area network radio technology can be used for.
Why LoRaWAN?
The most important ARguments for the use of loRaWAn
Digitization and Industry 4.0 cannot be implemented without appropriate wireless sensor technology - everyone agrees on that. But no final decision has yet been made when it comes to choosing the right radio technology. One of the available radio technologies for this is LoRa/LoRaWAN, and there are good arguments for it.
Low energy consumption, long range

LoRaWAN is a so-called LPWAN radio technology. Within such a radio network, large transmission ranges of up to 15 km can be achieved with very low energy consumption in contrast to a conventional WLAN. Whenever sensor data is to be obtained from measuring points that are far away from each other, LoRaWAN is ideally suited for this purpose.
Cost-efficient data transmission
In addition to the low energy requirement, there is another argument that helps industrial companies keep operating costs (OPEX) as low as possible: There are no costs for sending sensor data. LoRa operates in the license-free frequency range. Privately established company networks can be set up and used at zero cost.
A high penetration
LoRaWAN transmits in the subgigahertz range, which means that the radio signal from a LoRa sensor can successfully overcome even several concrete walls. This makes the technology suitable for mixed indoor and outdoor use, where, for example, the signals from sensors distributed around the factory premises can be received by the gateway inside a company building. LoRa sensors can also transmit from other underground areas.
Easily expandable wireless network
Once a company's own LoRaWAN has been set up, an expansion of the star-shaped network structure can be implemented very easily if necessary. No costly and time-consuming radio plan is required for adding further gateways, because they simply fit into the existing radio structure.
Secure data transmission
The requirements for secure data transmission are always a decisive factor when choosing a technology - especially in the industrial environment, where the requirements are significantly higher than in other areas. With LoRaWAN technology, data is encrypted on its way from the sensor to the software application on the Internet using the AES128 standard. Thanks to this end-to-end encryption, LoRa is a good option for wireless data transmission for industry as well.
Are you wondering whether LoRa/ LoRaWAN is also suitable for your digitization project?
We will be happy to advise you.
Request digitization consulting