Precise indoor and outdoor positioning with Quuppa & Co.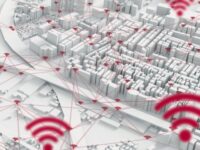 Quuppa is not a new technology, but a leading technology provider in real-time location systems (RTLS) and indoor positioning systems (IPS). The company has designed a product platform that enables a barrier-free transition between different positioning technologies.
Tracking objects outdoors or indoors in an industrial environment presents many challenges. Many different factors come into play when choosing the right indoor or outdoor tracking technology, depending on the application. While some applications require pinpoint accuracy, others require more basic knowledge of an object's presence within a defined space.
The Quuppa Intelligent Locating System™ is a unified technology platform for location-based services and applications. The platform provides companies with a complete software suite of tools for planning, simulating and commissioning projects, which can be used as a solid and scalable foundation for building various location-based solutions.
Real-time location - accurate & as needed
Quuppa systems can achieve 'sub-metre' accuracy using unique bearing methods based on angular measurements and a proprietary algorithm. How accurate the positioning needs to be usually depends on the application.
Depending on your needs - whether it's "meter accuracy" or just "presence detection" in a specific area - Quuppa allows you to control the level of accuracy by simply changing the number of locators.
In inventory management, for example, it is often sufficient to know that the object to be located exists or is in an approximate area, which requires only a few locators. However, if a more precise location is needed, such as at the loading dock, this can be achieved by adding more locators in that area.
Quuppa's Intelligent Locating System™ is a powerful engine for various location-based services and applications. It provides accurate real-time location data for tracked Bluetooth devices using advanced proprietary algorithms. But it goes much further!