Bluetooth streaming solution for operating rooms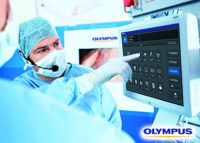 TECHNOLOGY INTEGRATION INTO AN ALREADY EXISTING CONTROL SYSTEM
Olympus Surgical Technologies Europe | Development of a Bluetooth streaming solution for operating rooms
Companies are often faced with the challenge of adapting existing products or already developed solutions to new technology standards. The question then arises as to whether an in-house development department has sufficient resources - both in terms of personnel and knowledge.
Especially radio applications require expert knowledge in order to develop a future-proof and feasible solution. This is where we, m2m Germany, come into play with our development department.
MUSIC FOR THE SURGEON -
DEVELOPMENT OF A BLUETOOTH STREAMING SOLUTION FOR OPERATING ROOMS
When it comes to technical inquiries in the field of medicine, things usually get tricky - after all, the standards set for this have to be met - especially when it comes to technical integration in operating rooms. Olympus Surgical Technologies approached m2m Germany with an unusual problem. The company was looking for a suitable streaming solution for operating rooms that would be compatible with Olympus' existing integration solution.
The medical technology integration solution from Olympus has a wide range of interfaces to the most diverse areas - from video management for live videos to documentation to information management to the control of all medical devices and peripheral systems in an operating room. And it was precisely into this system that a new audio streaming solution was to be integrated. The goal of the new solution was to incorporate a manufacturer-independent solution into the integrated Olympus operating room solution and to be able to operate the streaming via the touchscreen of the central control unit. The basic prerequisite for this was international certification of the new solution so that it could actually be integrated into the existing audio streaming solution and distributed internationally.
Bluetooth streaming solution:
Bluetooth is a manufacturer-independent technology and almost standardized in devices such as MP3 players and smartphones
With Bluetooth there are no mobile phone costs
Choosing a flush-mounted socket for the design ensures the high hygiene standards within an operating room
The existing Olympus integration solution has a Bluetooth interface, which allows access via touch screen
Whatever it takes:
Extension of the own product - "State-of-the-art
Reduction of development and personnel costs
"Time-To-Market" effect through certified development with corresponding country approval