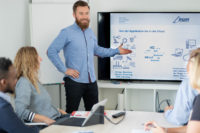 Almost everyone has heard the term "value added distributor" - but what exactly does it mean? In the simple translation, it means nothing more than "value-added distributor", but even that doesn't really say what kind of added value is hidden behind it. In order to achieve the addition of "added value", there has to be a fundamental value to what makes a distributor a distributor in the first place, doesn't there?
General tasks of a distributor
When we talk about a distributor, many people immediately think that it is a company that has no products of its own on offer, but "only" sells goods from company A to company B. This would clearly be short-sighted. But that would clearly be too short-sighted.
In addition to the basics - such as organizing shipping, logistics and warehousing as well as handling import and export formalities - a distributor takes care of countless other matters that usually remain hidden from the customer.
Starting with the agreement of framework supply contracts, the handling of RMA's, the registration and processing for the imported goods in terms of disposal of old equipment, packaging up to the approval and disposal of batteries, all this falls within the responsibility of a distributor. Not to forget that the distributor has to bear all costs incurred in the process.
In addition, a good distributor offers comprehensive advice and support in both product selection and suitable accessories. As a rule, he also offers 1st-level support for the products he offers. A distributor writes appropriate end-of-life policies, announces them, and stocks up on EOL goods to meet any customer needs. Likewise, the distributor ensures product compliance to meet required long-term supplier statutes.
"Value added" encompasses more than thought
Actually, with the services already listed, it could be perfectly sufficient to call oneself a Value Added Distributor, but this is not the case. Those who are really serious about this addition offer additional technical services. These can be workshops on special topics/products or customer-specific training courses. Furthermore, a complete hardware design or a PCB layout is also part of the extended range of services of a Value Added Distributor, as we understand it.
It is no empty phrase when we say that we not only supply you with individual components, but that we accompany you from the initial idea through the entire value chain to the finished product.
In doing so, we also take on, for example, a design review of your own layout, develop a prototype and the corresponding firmware with you, or take on the micro-controller programming as well as the programming of any cloud connectors. We also actively support you in the area of certification and, if desired, make recommendations on suitable providers, cloud providers or other issues.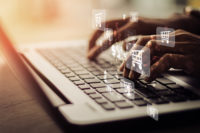 Our lived know-how makes us a reliable and competent partner, in the sense of: "we make your business wireless".
Are you looking for a suitable solution or do you need a partner who is at your side?
Then call us at: +49 6081 587 3860 or contact us via mail.