Mobile WLAN hotspots for vehicles
It's no secret: modern travelers in buses, trains and mobile homes want access to the Internet for their smartphones, tablets and notebooks. Emergency vehicles of police and fire departments are also looking for a corresponding solution for special vehicles. A suitable vehicle router is the solution.
Vehicle manufacturers and operators face the challenge of providing a secure and stable Internet connection for their vehicles and passengers. Whether only as a WLAN hotspot or at the same time as a passenger information system is desired, it is important to meet the customer's wishes and to catch up with standards within Europe. With a simple vehicle router installation, you can enrich your customer's offer with stable Internet access for passengers - in buses, trains, mobile homes or emergency vehicles.
In addition to mobile Internet access, digital signage, electronic payment systems and infotainment services can also be offered.
What do you think about being able to offer your customer this wish quickly and easily?
We have vehicle routers in our portfolio that are specially approved and certified for these needs - so you and your customers get exactly the right solution, whether bus, train, construction vehicle or special vehicles such as police cars and ambulances.
Guarantee your customer secure and stable mobile access that always provides the optimal available network at the best speed.
Cooperation partners recommended by us for HotSpot User Management ensure WLAN hotspot functionality and security according to the highest standards.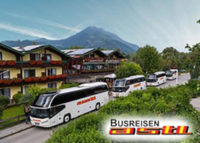 Use Case suitable for the topic
ASTL Busreisen | Boundless WLAN in the coach
We have already implemented such a solution for the company ASTL Busreisen. If the topic interests you, we recommend this use case