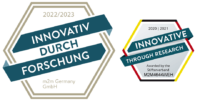 m2m Engineering - Research creates innovation
m2m Germany has been doing intensive research and development work for years and invests about 12% of its annual turnover in future technologies and applications every year. Are you interested in a cooperation with us? We always have an open ear for interesting cooperations and partnerships.
Our awards
In addition to developing customer-specific products and applications, m2m Germany develops a small number of its own products and solutions, primarily based on Bluetooth, Bluetooth Smart and LoRa, as well as NB-IoT.
However, m2m Germany is also active in researching new technologies apart from specific products and applications. This is often done in cooperation with other companies and/or together with colleges and universities.
Only companies that show a special commitment to research and development are awarded the seal "Innovative through Research" by the Stifterverband. Especially for our documented, ZIM funded project: Development of a cloud system for inventory, localization, tracking and securing of inventory and persons in real time using modern Bluetooth Low Energy - components , we were awarded with the research seal of the Stifterverband. The project funded in 2014 and the resulting product, them2m Smart TAG, already received several awards in the following years. The Bluetooth Low Energy TAG won the IT Innovation Award 2015, the Telematics Award 2014 and the ITK Readers' Choice for the Product of the Year 2014.
In addition to the smart TAG, other products from our development forge have also received awards. Currently, we are pleased about the award of our LoRa/BLE TAG as the best product of LogiMAT2017.
Our research projects
At present, a research project is being carried out together with the University of Applied Sciences Dortmund and another project of the BMBF (Federal Ministry of Education and Research) funding programme within the funding priority "KMU-innovativ - this project is being carried out in cooperation with universities and IT companies.
Research project with Dortmund University of Applied Sciences: Development of a low-infrastructure system for indoor tracking of objects and persons with compatibility to current smartphone technology.
In this project, m2m Germany will develop a low-infrastructure indoor tracking system in cooperation with the Department of Computer Science at Dortmund University of Applied Sciences. The parameters "temperature and impact load", which are relevant for the logistics chain in many industries, will be measured and documented. The system will be unique and innovative due to its operation with little or no infrastructure. Compatibility with current smartphone and tablet technology enables operation with a minimum number of permanently installed gateways. The task of transmitting data to a (local) network can in future also be performed by smartphones or tablets.
In this development project, m2m Germany will develop and provide the hardware components (TAG). Dortmund University of Applied Sciences and Arts is responsible for the software and thus the processing of the data for localizing and tracking the "intelligent" objects.
Research project with the University of Darmstadt, University of Cologne and SME companies: Development of an exergaming system to test MIT concepts using the example of Parkinson's Disease (PDExergames).
The aim is to support patients whose motor skills are limited, e.g. due to a stroke or diseases such as Parkinson's, during rehabilitation. For example, sensors can record exact movements and deficits can be treated and trained in a more targeted manner than in conventional therapies. The research project, which is funded by the German Federal Ministry of Education and Research, is scheduled to run until 2020.