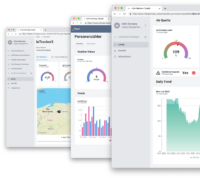 m2m Germany Cockpit:
Get everything out of your data!
No added value without suitable data evaluation
With m2m Germany Cockpit you get an IoT platform that allows you to efficiently monitor and control devices and processes as well as visualize, analyze and log them. Implementing and integrating the devices is child's play and requires minimal time, without any programming knowledge at all.
your benefits
Collect and evaluate sensor data in real time

Make processes more efficient

Reduce downtime

Perform predictive maintenance

Save costs

Save resources
The m2m Germany Cockpit at a glance
Integrations: versatile

The m2m Germany Cockpit can be adapted to individual customer requirements, is vendor-independent and open, so that sensors and other IoT devices from almost all manufacturers can be connected. End devices from in-house developments can also be implemented using the integrated editor.

In addition to LoRaWAN, other radio standards and IoT protocols such as NB-IoT, LTE-M, MQTT or HTTP are supported. The most common LoRaWAN network servers are already stored out of the box.

The operation: intuitive

The m2m Germany Cockpit has a clear and intuitively designed dashboard. Predefined templates for various sensors and devices make it easy to add and configure them on the platform.

The platform can be accessed via any Internet browser - even on mobile devices. An additional app or software is not required for use.
Visualization and analysis:
Clear and understandable

On the dashboard, you can keep an eye on all measured values at all times. And with the help of the dashboard designer, you can easily customize them and arrange the widgets via drag & drop. Predefined layouts are also available for display on desktop or mobile devices.

Range of functions: considerable

Individual rules and limit values can be defined for all sensors and IoT devices. If the defined normal range is exceeded, the cockpit automatically sends an alarm via SMS or e-mail.

Anomalies can thus be detected quickly and malfunctions avoided at an early stage. In this way, you increase the quality and efficiency of your processes, reduce downtime and cut costs through predictive maintenance.

You can also have the recorded data automatically emailed to you on a regular basis as CSV reports.




Intuitive device management

Easy network server integration

Customizable with Node-RED

The m2m Germany Cockpit: For a wide range of applications
In the smart city environment, there are many possible applications for the IoT platform. Data on traffic or people, environmental data, parking lot usage, and energy consumption can be easily analyzed. The analyses can provide helpful insights and promote sustainable city solutions.
Air quality measurement
Display of filling levels (e.g. of containers, waste garbage cans)
Monitoring of water levels (e.g. of water bodies, wells, shafts)
Tracking the volume of people and traffic
intelligent street lighting
Occupancy display

Track assets in real time to know where which assets are at any time and save valuable time. Stay in control at all times with greater visibility and visibility.
Get data on vehicle condition, operating hours, fuel consumption, driving behavior and take your fleet management to the next level. The m2m Germany Cockpit enables accurate monitoring of vehicle locations and optimized route planning. Thus, fuel consumption can be reduced and driving routes and vehicle utilization can be optimized.
Asset tracking
Fleet management (e.g. routes in real time and historically)
Availability display
Monitoring of stock levels

With m2m Germany Cockpit you can monitor machines and plants in real time, access and control them remotely. This way you have information about the status of your plants or machines at any time without having to be directly on site. In the event of deviations from target values, you are notified by SMS or e-mail. Problems can thus be detected and rectified at an early stage before major damage occurs. The analysis of the data also supports diagnostics and maintenance intervals can be adjusted based on the data values.
Condition monitoring of machines and plants
Remote access and control
Set point monitoring
Alarm when limit values are exceeded
Predictive maintenance

In buildings, various scenarios arise for the use of an IoT platform: be it to make energy consumption more efficient, to increase security or to ensure a pleasant indoor climate. You can achieve this by recording consumption, monitoring air quality in rooms, automatically regulating heating, and remotely monitoring the behavior of technical systems in buildings.
Monitoring of room air (CO2, room temperature, humidity)
Energy consumption
Heating control
Room occupancy
Display whether doors/windows are closed or open

The spectrum of possible applications in smart farming is broad: Starting with the recording of individual sensor readings, such as the temperature in barns and silos, soil moisture or fill levels, to the control of entire irrigation systems. The m2m Germany Cockpit can also be used for asset tracking. In this way, agricultural machines and vehicles can be digitally networked and tracked at any time - for more transparency and more efficient use.
Temperatures
Soil moisture
Plant condition
Weather conditions
Animal Health
Warehouse & Logistics
Asset tracking of machines and vehicles

You are interested and want to learn more?
Our sales team will be happy to advise you further and demonstrate an online demo.