Smart Region Summit 2023 in Darmstadt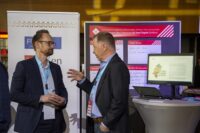 m2m Germany & melita.io at the Smart Region Summit in Darmstadt
The Centralstation in Darmstadt served as the backdrop for the summit. The event took place under the motto: "By municipalities for municipalities" and welcomed around 200 municipal representatives. The event focused on exchange, networking and knowledge transfer.
Numerous Smart City/Smart Region projects were presented at the summit to encourage other municipalities to follow suit. The intermunicipal cooperation between the cities of Fulda, Giessen, Limburg, Marburg, Offenbach and Wetzlar in particular provided a clear impetus to demonstrate that it is possible to shape the digital transformation and future together in an agile manner.
During the event, Hesse's Digital Minister Prof. Dr. Kristina Sinemus handed over a grant of around 1.8 million euros for the development of an open data platform in the Darmstadt-Dieburg and Wetterau districts to District Administrator Jan Weckler and Darmstadt-Dieburg District Councilor Christel Sprößler.
Shaping the future with LoRaWAN®.
We at m2m Germany GmbH are also helping to shape the Hessian Smart Region and feel like a strong partner in the community.
Together with partners such as melita.io, m2m is and has been involved in various regional and supra-regional projects, such as the establishment of a LoRaWAN® infrastructure in the city of Meißen, the planning and construction of a LoRaWAN® network for the municipal utility in Giessen and also the implementation of a LoRaWAN®-based flood protection system in Neu-Ansbach.
m2m Germany sees itself as a LoRaWAN full service provider and delivers the appropriate hardware & software as well as the suitable LoRaWAN network server solution. We act manufacturer-independently, with the sole aim of implementing the right solution for the project.
We draw on a broad network of experts and thus offer the necessary agility and flexibility for digitization projects. Together with our partner melita.io, we offer a LoRaWAN® Infrastructure as a Service solution especially for municipalities and communities.

You want to know what's behind it?