5 star ratings for our support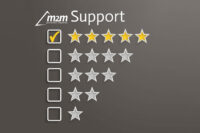 Sometimes you are allowed to praise yourself - especially when customers do the same by giving you 5-star ratings.
We took a look at our support statistics a few days ago and were happily surprised ourselves. Not only have the support requests increased, but we were also thrilled by the feedback left by our customers.
Over 70% of the customer reviews submitted in the last 4 months have given us 4 or 5 stars!
Since a maximum of 5 stars can be awarded in the awarding process, we find the result more than appealing, as it shows that our support is purposeful.
Our online support is always available during our opening hours and will be happy to advise you. Should it then become much more comprehensive, then the support request goes directly to our technology.
Of course, we also accept requests that go beyond "normal" support.
For this purpose, we offer corresponding various support services.
Always the right support service
Sometimes it's not just done with a brief technical enquiry or a helping hand. For everything that goes beyond basic support, we offer our Premium Support. You can take advantage of this for just one month or for a whole year. For Premium Support customers, we guarantee prioritisation of the support request, direct assistance from our support technicians - also via remote maintenance and an initial response within a few hours. We usually recommend this form of support for project customers.
If you only need support with configuration, programming and commissioning, we recommend our Service & Support Package - we will negotiate this with you individually. Just send us an enquiry and we will get back to you.
In addition, we also offer emergency support on an hourly fee basis. This includes professional support of up to 2 hours for each emergency support case and can be easily booked via the webshop.
You can learn more about our support packages in our store and on our homepage. And remember, we appreciate your feedback - it's the only way we can get better.