MA510 LTE Cat M module receives full certification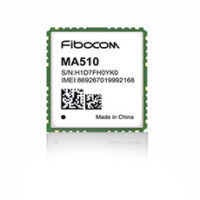 Deutsche Telekom has fully certified the MA510 module
With the certification, Deutsche Telekom confirms all functions and the resulting possibilities of the MA510 in the Telekom network. For the product, this means that it reliable in the network and that the close partnership between Deutsche Telekom and Fibocom underlines. In addition to the latest approval, the module has already passed some notable certifications from telecom operators such as AT&T, Verizon, Sprint, KDDI and Vodafone.
What are the advantages of the new module?
Fibocom MA510 is a series of multi-mode LTE Cat M/Cat NB2/EGPRS modules with global bands, global certifications and integrated GNSS. It is fully compliant with 3GPP Rel-14. In addition, the MA510 is pin-to-pin compatible with Fibocom's LTE Cat M module family 510, allowing user applications to easily switch between different technologies without having to adjust the hardware layout.
Fibocom's low-speed and low-power product portfolio offers the highest flexibility to industrial customers, including N510 (NB-IoT), G510 (GSM) and MA510 (GSM/NB-IoT/eMTC three-mode), the three modules are PIN compatible, which is extremely user-friendly as it allows them to be seamlessly integrated into IoT projects. In addition, with its small size and extremely low power consumption, the module has a large portfolio of Internet protocols and industry standard interfaces and functions.
For which applications is the MA510 suitable, among others?
✓ FOR 450 MHZ RADIO NETWORKS
✓ WEARABLE DEVICES
✓ WIRELESS POS
✓ TRACKING
✓ SMART METERING
✓ SMART PARKING
✓ SMART HOME
Also from the MA510 series: MA510-Gl-00 Global Tri-Mode Module. Also ideally suited for 450MHz radio networks.
Already available in our IoT Shop.