Router for M2M, industry, IoT and telematics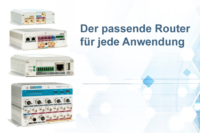 We help with your digital transformation
Finding a suitable router for M2M, Industrie 4.0, IoT or telematics applications can be more difficult than expected.
We know that digital transformation is a challenge facing all industries and companies. Digitalization is also a key issue for public utilities, cities and municipalities. Where expertise is located in one's own company, suitable solutions are relatively easy to elicit. But if the topic is still relatively unknown, the search for appropriate solutions becomes difficult and confusing.
That is why we have put together a NetModule basic portfolio for various application scenarios, especially for public utilities, cities and municipalities, to make the search easier. And if you are not sure whether there is a suitable router for your application, we will be happy to advise you. We will find the appropriate hardware for you and your project, independent of the manufacturer.
Suitable solutions for public utilities, cities and municipalities
IoT router

The compact NB800 router series is specially designed for connectivity tasks with limited space. The application focus is on remote management and or condition monitoring. Features include an LTE modem for wireless Internet connection, a WLAN access point with Bluetooth LE, an Ethernet port and various interface extensions. For mobile applications, the integrated GNSS supports.

Kritis router

Special rules apply to routers used in a critical infrastructure so that the required IT security can be guaranteed. Specifically for critical infrastructure, the NB1600 series features LTE450 with multiple SIM slots, WLAN and GNSS.
The series is designed for stationary as well as mobile applications, including remote management, video surveillance or factory automation. The product offers multiple Ethernet ports, Power over Ethernet, digital I/Os as well as serial interfaces.

Vehicle router

The in-vehicle routers bring IP network technology to vehicles (ITxPT) and form the backbone for reliable digitization. With their compact, fanless and robust design, the routers are suitable for applications such as passenger WLAN and information, ticketing, telematics or fleet management.

The E-Mark approved devices are equipped with several LTE Advanced modules, WLAN access points, GNSS, Gigabit Ethernet ports with up to 1 TB internal storage capacity, depending on requirements.
Railway router

The NB3xxx series routers for data and voice communications in streetcars and trains comply with the EN 50155 standard and bring IP network technologies such as ITxPT into the vehicle. The devices feature wireless technologies such as LTE, WLAN and GNSS and offer the appropriate interfaces to the on-board electronics. They are therefore ideal for all applications in rail transport where reliable communication is required, such as passenger WLAN or driver communication.

Vehicle IoT router

The NB800 E is recommended for municipal vehicles such as refuse collection or winter services, BOS emergency vehicles, commercial vehicles for the construction industry, agriculture or passenger transport.

The E-Mark router is the cost-effective solution for a robust in-vehicle internet connection. Its modular design supports a wide range of protocols. The NB800 with E-Mark is ideal for mobile connectivity in a wide range of applications in transport and industry.

We will gladly advise you

You still have questions or need advice? The right hardware was not included in the basic selection?
No problem - we are here for you. Together with you, we will develop the right solution for you and implement it with you.
True to the motto: "we make your business wireless".