Sensors from Sentinum in our IoT Shop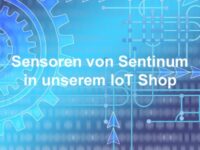 In our IoT Shop you can find various sensors from Sentinum with different wireless standards. As we have already reported, we have entered into a partnership with the Nuremberg-based start-up Sentinum. The company is already considered a specialist for IoT solutions and offers various sensors for individual measurements.
In addition to the sensor solutions from Sentinum, we also have additional documents on the products available for you in the IoT Shop: from the data sheet to the Quickstart Guide for the initial setup of the devices.
Apollon-Q IoT Level Sensor LoRa

The Apollon-Q IoT level sensor LoRa can be mounted versatile and uses LoRaWAN® radio technology for measurement. Optionally, a device with NB-IoT as radio standard is offered. The battery life of up to 12 years guarantees a reliable service life of the device.

Febris Indoor CO2 Sensor LoRa

The Febris Indoor CO2 Sensor LoRa measures the temperature, humidity and CO2 content in the air. The measurements can be triggered intuitively with a simple tap. With 12 transmissions per day, a runtime of 2.8 years can be guaranteed.