Suitable sensors for your condition monitoring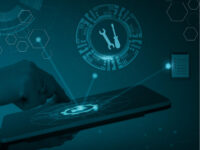 Maximum utilization of machines, as little downtime and interruptions in production as possible, and low maintenance and servicing costs. All this and more is a top priority for the profitability of a manufacturing company, regardless of its size.
Without condition monitoring, i.e. the digital monitoring of machines and plants by sensors and their networking, this is no longer possible in times of advancing digitalization and Industry 4.0.
What is Condition Monitoring?
Condition monitoring means nothing more than the continuous digital monitoring of machines, plants, processes or systems in order to assess their current condition and, if necessary, to detect deviations from the normal operating state at an early stage.
The main objective of condition monitoring is to detect problems or signs of wear in good time before they lead to more serious damage or unplanned downtime.
This approach uses different types of sensors and technologies to collect data about machine or process parameters, such as:
Vibrations,
Temperature,
Print,
Vibrations,
Flow,
electrical signals, etc.
This data can then be evaluated against defined patterns and setpoints to detect anomalies or deviations from normal operation. In the event of an actual deviation, the system can automatically trigger alarms and send notifications to maintenance personnel to take appropriate action.
A selection of sensors for condition monitoring