OEM development and radio integration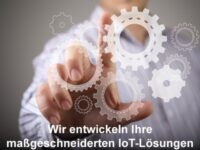 We develop your customised IoT solutions
Are you a manufacturer or developer and need help with the successful implementation of a radio integration? We help you get your product to market as quickly as possible and accompany you from proof-of-concept to roll-out.
We support you with:
Workshop for technology selection, which radio technology is suitable for your project
Support for firmware and hardware development
Allocation of a development sub-area
Production of the product as OEM version
Antenna selection or also individual design
Support with the approval process
You benefit from a cooperation with m2m Germany GmbH from:
A consideration of the total costs in advance
A rapid implementation
Know-how transfer
Calculable development costs
A "Fast-Time-To-Market" Effect
What is the focus of m2m Germany GmbH?
m2m Germany GmbH sees itself not only as a distributor of well-known manufacturers in the world of IoT, but also as a development service provider for large and medium-sized companies. Our interdisciplinary team full of technology experts works at eye level with medium-sized companies and provides large companies with the necessary agility and flexibility in digitalisation projects. In doing so, we see ourselves as "enablers" of new business models and opportunities such as Big Data & Co. The technical focus is on wireless technologies such as LTE, Bluetooth, LoRa® or NB-IoT.
For example, we integrated the LTE mobile radio standard into one of their existing LoRa-capable gateways for a major manufacturer and subsequently marketed this product as a LoRa/LTE gateway. We also developed an ultrasonic level sensor for mobile containers, tanks and silos that transmits its data via GSM - or LoRaWAN - to a secure remote station in the industrial IoT.