Winner of the Innovation Award IT 2015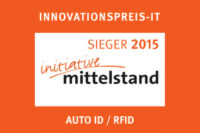 The winners of this year's IT INNOVATION AWARD of the Initiative Mittelstand were announced at the CeBit trade fair in Hanover. Since 2004 the Initiative Mittelstand has been awarding this renowned prize. With this award, it promotes innovative products and solutions that are characterized by a particularly high benefit for medium-sized companies.
In the category AutoID /RFID m2m Germany was among the lucky winners of the signet. The winning product was once again the m2m Smart TAG, which has already won several awards.
The m2m Smart TAG expands the m2m Germany Bluetooth portfolio and offers the market a BLE "all-rounder". With integrated motion and temperature sensor and a range of up to 450m, the TAG is well equipped for the requirements of the IoT.
Small, clever and smart, it masters numerous challenges, be it in terms of iBeacon® applications, access and presence monitoring, indoor and outdoor tracking, inventory, location-based marketing scenarios and much more.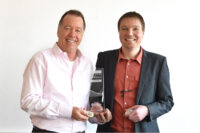 Winning this competition with a product from our own development department - sponsored by the Federal Ministry of Economics and Technology (BMWi)* - once again demonstrates the high innovative strength of m2m Germany GmbH and its excellent understanding of how to translate customer requirements into practical solutions.
Counterfeit-proof and globally applicable
The m2m Smart TAG is based on the Bluetooth 4.0 specification - also called Bluetooth Low Energy (BLE). The fully configurable TAG has an authentication function via out-of-band pairing, is forgery-proof and has a motion sensor that is able to detect manipulation attempts. Status data is transmitted in advertisement packets at dynamically adjustable transmission intervals, providing information about the object to be tracked. The TAG independently reports its identification number, temperature, motion and acceleration data, as well as battery status and position at one-second intervals. The underlying network technology allows an almost unlimited number of connected/integrated units in a network. The network is scalable, globally deployable and encrypted on all communication levels (AES128, SSL, etc.).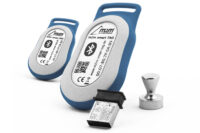 Ready for operation upon delivery
The m2m Smart TAG is ready for operation at delivery. It is switched on via a magnetic field sensor inside. If a magnet is held close above the m2m Smart TAG, it starts to send out advertisements and is active. It can then be configured over-the-air via the Bluetooth Smart Interface. The initial configuration is carried out at the factory via PC and is customer-specific. After the first power-on, the system runs autonomously! Each TAG can be configured remotely and can therefore be used again and again - depending on the application requirements. In addition, the TAG is compatible with all common smartphones and thus App-compliant, i.e. the customer can get a tailor-made App for it or develop one himself.
Reduces costs
The BLE-TAG can be quickly integrated and is ready for use. Monitoring, protection against theft and improper handling or misconduct are registered. This results in an efficient deployment planning of man and machine. Wear and maintenance intervals can be optimized. The result is a reduction in costs for personnel, machines and equipment. The range of applications is broad and ranges from optimized warehouse utilization, inventory, medical care or security scenarios to telematics and location-based marketing applications.